Back
The beginning of the end of polybags
Article published on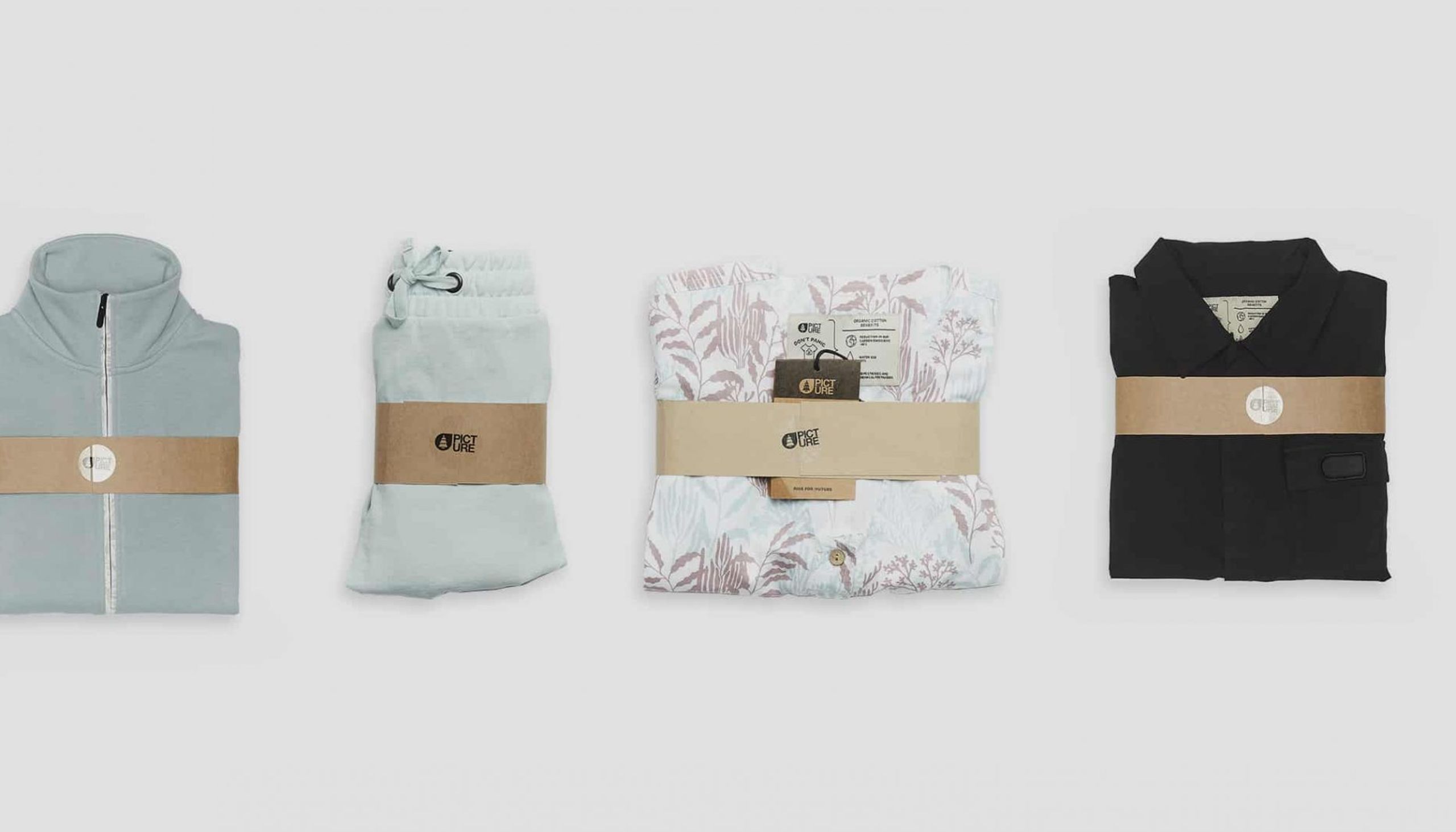 Every year, Picture manufactures and then ships more than 500,000 products to either retailers or your homes. We work with approximately 20 factories to make our products, which are distributed in 40 countries and sold in more than 1400 shops.
For more information on our approach to production and distribution click here. One key issue our business faces is the need for packaging to protect each product when it leaves the factory to go to its final destination.
Moisture, dust, passing through customs, poor handling, and storage: the reasons for protecting our products are numerous to ensure safe passage during their perilous voyage, with many logistical constraints to consider as well.
Plastic bags (aka "polybags") are the easy solution that the garment industry uses to protect products for shipping. Employed on a massive scale, polybags play a very functional role and offer several benefits: they are tough, supple, and see-through for customs to easily identify the contents.
We have almost always used polybags to protect our products for shipping and to ensure that they reach their final destination in great shape.
Almost indeed; in Picture's early days in 2010, our current supplier Seyfeli shipped our products without packaging them in polybags. They were simply folded and placed in cardboard boxes. At the time, we managed logistics from our own small warehouse near Clermont-Ferrand, France.
When Picture's sales volume grew too large for our limited storage capacity, we decided to decentralize logistics. At that point, we applied the processes used by large warehouses, complying with the requirements and constraints of large-scale logistics flows. In other words, we used polybags by default without really trying to challenge current practices.
For obvious environmental reasons, we have never been happy with the fact that we use single-use plastic packaging for eco-designed products.
In 2018, we recognized the need to improve in this area and kicked off a project to drastically reduce our use of polybags. At the same time, the leading American outdoor retailer, REI, updated its logistics policy for brands.
→ If brands continued to ship their products in individual plastic packaging, REI would penalize them. We welcomed such a strong stand taken by an influential and large retail network.
For Picture, we have always based our thought process on following three important points:
Continue to ensure that our products arrive at their destination in good condition.
Explain to our partners why we want to make this change and why it will be, beneficial to their business.
Have the courage to go against the grain and question long-established logistics processes.
As of today, here are our conclusions and our plans:
1/ Get rid of all excess packaging.
This simply means applying common sense on our part. We realized that a lot of our products had too much extra, unnecessary packaging that did not provide any added value in terms of protection, the result of longstanding (and unquestioned) practices by our suppliers. So we decided to make some changes! The products targeted for change include beanies, caps, wetsuits, underwear, backpacks, water bottles, leggings, and tote bags.
Using common sense has allowed us to eliminate 21% of the polybags we would have used for winter 2020/2021. For future seasons, we will of course apply this approach.
By the numbers:
2/ Use roll packing for lifestyle products.
Eliminating polybags for packaging a single product is the most radical and effective solution in the fight against plastic use. Roll packing consists of rolling a garment and then tying it up with a piece of string. The product maintains its shape for easy handling.
We can apply this technique to t-shirts, sweat shirts and pants, dresses, shorts, and chinos. It still requires using a master polybag to protect all products shipped in a single cardboard box. However, the savings are still huge.
By the numbers:
19% reduction in polybag use.
150 857 polybags removed, equivalent to 2,2 tons less.
4598 kg CO2 saved, equivalent to a 24000 km car trip!
Key word: textile industry stakeholders working together.
While roll packing has several limitations within the logistics process, we know that this technique works. North American brands such as Tentree and prAna and British Brand Mountain Equipment already ship products this way, and they handle much greater volumes than us! In other words, there is really no reason that we can't do the same.
Speaking with these brands was truly rewarding. A huge thanks to them for taking the time!
3/ Reduce the size of the polybags used for our technical products.
Even though the roll pack presents the most radical and effective solution in the fight against plastic pollution, we need to gain a certain amount of experience to be able to implement the same approach to our technical range of garments, which are heavier, take up more space, and of much higher value.
In the meantime, we will reduce the use of what we cannot completely eliminate. We plan to more effectively fold our ski/snowboard pants. At present, we fold them in half, and from now on we will fold them in thirds, allowing us to use smaller polybags and reduce our plastic consumption.
By the numbers:
Reduction in polybag size is equivalent to a 13% reduction in polybag use.
103180 polybags removed, equivalent to 1,5 tons less
3135 kg CO2 saved,  equivalent to a 16000 km car trip!
Key word: textile industry stakeholders working together.
Reductions conclusion:
53% reduction in polybag use
424 932 polybags removed
6,3 tons less
12 950 kg CO2 saved
What about recycling polybags after use?
Our approach will lead to a significant reduction in the number of polybags that we need to recycle, an important step for us. However, recycling should never be seen as the miracle solution. When we fail to question the usefulness of the product that we recycle, then recycling becomes no more than a waste of energy that we could have saved.
Nevertheless, when it comes to recycling the polybags we do use, here is our approach:
Choosing LDPE (see recycled LDPE) based polybags makes them easy to recycle on an industrial scale. This is the main type of polymer treated in soft plastic recycling centers.
Expanding recycling options (the number of cities with recycling bins that accept soft plastics is increasing) makes it easier for shops and consumers to deal with used polybags.
When possible, we remove the polybag before the product in question reaches your home (the end consumer). This allows us to manage polybag recycling with specific partners. If needed, our partners can also travel from shop to shop to collect used polybags.
It's up to all of us to work together to reduce plastic use as much as possible!