Back
Picture Social Program X Solar Portraits
Article published on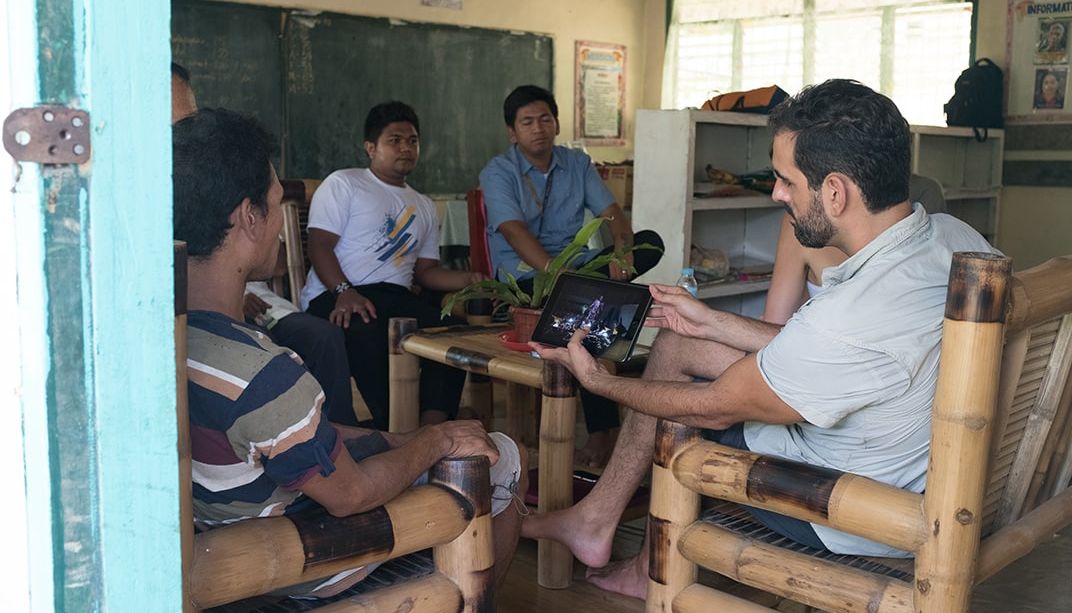 Every year, we offer 2 employees the opportunity to take part in the Picture Social Program and embark on a humanitarian mission or an environmental project. Fully financed by Picture, the only requirement is that participating employees use vacation time.
The program is open to every employee who has worked for the company for at least 18 months. Teams of two sign up. If more than two teams are interested, then a random drawing decides which team will participate.
In April 2018, Laura and Estelle kicked off this new program on a mission to Nepal with the non-profit Rêves Népalais.
This year, Florian Delobre (our Retail Manager) and Florian Palluel (our CSR Manager) are off to the Philippines! Why so far away? This is an area of the world where our partner Rubén Salgado, founder of the Solar Portraits project and contributing photographer to National Geographic Magazine, has seen a lot of interest.
Their mission: set up solar infrastructure to bring light to a village with no access to electricity. The project received support from local NGO Liter of Light.
After this brief introduction, here is the story of our two employees:
On June 19, at 05:00 in the morning, we head to the small village of Ambang Mangyan on Mindoro Island. No roads lead to the village, only a narrow trail through the jungle and crisscrossed by several rivers. It takes one hour to walk there.
Upon our arrival in the village, we have no real information about the quality of the existing solar-power infrastructure, about living conditions, or about exactly what type of aid we will be able to provide to best help the local community.
Teachers working at the village school are well placed to answer our questions. They walk to and from the village every day, know the various issues village inhabitants face, and speak English. Together, with their incredible help, we quickly identify the key issues to tackle, and plan for what needs to be done:
Most existing solar devices no longer function and need repairs. This involves outdoor lanterns (street lamps) as well as indoor lighting for homes.
Most village inhabitants live without lanterns inside their homes and without any outdoor lanterns nearby that function properly. Some use candles, others do not use anything at all. Once we determine the need, Liter of Light will provide the lanterns.
Children at the school eat little to nothing at lunch, since neither the school nor their parents have the means to provide them with a meal. Just over one hundred children are concerned. During our stay we will cook for them at lunch.
Plastic trash litters the village and the surrounding environment. There is a lot. We understand that this is not a high priority for locals, but the teachers agree that generating a more awareness and taking the time to pick up existing trash is a worthwhile endeavor.
In the meantime, Ruben starts thinking about the final photo to take at the end of our trip and for his project, Solar Portaits. He is accustomed to meeting with communities living without access to electricity. Solar devices that provide light after nightfall always change the habits of those who benefit from them. Access to light allows them to continue farming, to help their kids with their homework, to play outside, and to simply see at night. Every story is different, authentic, and unique.
On the first night, after repairing one of the lamps in the upper part of the village, we could see the immediate effect of our work: kids hanging out beneath the lamp and tell stories to each other. Unbelievable. It was 20:00 (8pm) and already dark out. Without the light from this lamp, they would have probably gone to bed right away.
In 2019, more than a billion people still to live without access to electricity. Access to light and drinking water should be standard for everyone everywhere across the world.
——
The school principal kindly loaned us his office as a place to sleep at night. This is the first time that foreigners have spent more than a day in the village.
The next day, the real work begins! We walk from house to house with Liter of Light to count the number of missing lanterns and lanterns to repair. Then, we present the Solar Portraits project to classes at the school. The kids are intrigued to see the positive effects of solar power at other villages like theirs. Time flies by, and at noon as promised, we cook for the entire school. A hearty meal of rice and vegetables are on the day's menu; feeding everyone costs only 1000 pesos (€15).
Après une matinée bien remplie, la chaleur assommante a raison de nous. Nous comprenons que nos principales After a full morning, the stifling heat makes any physically strenuous activity simply unbearable. We rearrange our initial schedule to plan all strenuous work for the early mornings. The afternoon offers a great opportunity to explore the surrounding environment and enjoy the nearby river's cool waters. Kids in the village get to know us, and take us to another location, their secret spot.
After a day and a half, Ruben has a clearer idea of what he wants to do for the photo. Basketball is the country's favorite sport. Even Ambang Mangyan has a basketball court! If we set up several lanterns around the court, the kids will be able to play basketball at night!
Night falls quickly and day 2 has already come to an end. The lanterns prove useful in no time, and we witness firsthand as the villagers take advantage of their newfound ability to light up the night. At the school, a teacher provides extra tutoring by lantern light, while down in the village, a local artisan finishes weaving a wicker basket. Moving quietly through the village, we capture these unique moments on film, until a loud ruckus interrupts our excursion: a coconut falls 10 meters (32 feet) onto the roof of one of the tin houses. While we are clearly taken aback, the loud noise does not appear to disturb anyone else; falling coconuts are a common occurrence in these parts. Later we learn that getting hit on the head with a coconut is a common cause of death in the Philippines. One of the village inhabitants is even in charge of keeping an eye out for coconuts that might fall.
——-
Day 3! We start to make a game of picking up trash. To top it off, we leave a polaroid photo with each class. The kids are amazed and impressed with the instantly appearing photos! It's magic! We have a hard time understanding why picking up trash in and around the village is not a priority for the locals. Thankfully Franklin, 26 years old and a teacher at the school, reassures us that this is a great initiative. He explains the issue to his students in his own unique way:
"I explain that if they throw plastic on the ground, the wind can carry it to the river. Then, the fish might eat the plastic and get sick. If we catch sick fish to eat, we'll then get sick as well and maybe even die. I ask them, 'Do you want to die?' And they answer, 'No!' Good. This is why you shouldn't just throw plastic on the ground."
While we spend time picking up trash, the Liter of Light team continues to repair the lanterns that have stopped working. Then, based on our count from the day before, we are ready to distribute indoor lanterns to those houses without one. Over fifty households will be able to turn the lights on this evening!
The time comes to set up everything we need for Ruben's final photo. A new "Solar Portrait" of the local passion for basketball. All of us enjoy the making-of. The entire village is intrigued. Everything is ready for the 18:30-19:00 (6:30pm-7:00pm) sunset. Once over, well all cheer and thank everyone involved.
The result lies in Ruben's hands, and he looks more than satisfied. For the time being, the photo belongs to National Geographic, who plans to do a story on our work in Ambang Mangyan, but we will be able to show it to you soon!
Our project is now complete. Since this is our last night in the village, we share a few glasses of gin with the teachers as light from the full moon shimmers through the palm tree leaves.
A huge thanks to the teachers, the school principal, the village inhabitants, and all the kids for their hospitality. The experience was simply amazing. From the start, we tried our best not to show up and act like "Europeans bringing light," making the effort to spend time interacting and bonding with locals.
Thank you to Ruben and Kathryn, our partners during the project, for making the 2nd edition of the Picture Social Program possible.
Thank you to Myrna at Liter of Light for her commitment to each and every community.
Thank you to Picture for offering this type of opportunity year after year.
Salamat Po !