Back
The PICTURE ECO-SUIT TOUR is starting!
Article published on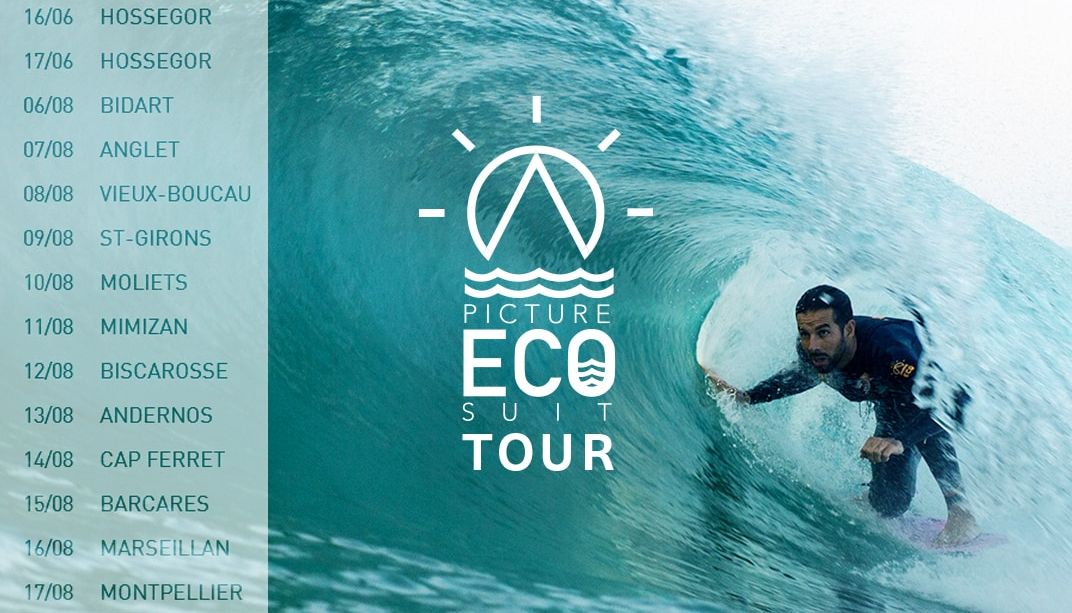 Come test our wetsuit range during the Picture Eco-Suit Tour!
Since surfers began to explore the oceans, new technologies and materials are developed for wetsuits every season.
The surf market is offering a large number of innovative products. The best way to ensure safety and quality of the product is to try it!
Join us and discover the new SS18 wetsuit line and test it on your favourite spots. We would love to have your feedback!
A big thanks to our patners who vill host us during the Eco-Suit Tour : Picture Store, Waimea, SB3, Zao, Pura Vida, Atmosphere, Soon Line, Sea Surf and Sun, Natural Surf Shop, Piedanlo, The Fat Monkeys, Glissproshop, Vague et Vent, Sport aventure, Mel X Chris, Tutti Frutti.
We will also participle to several events :
Surf Demo Days in Hossegor (France), June 15th, 16th & 17th
Boardmasters Festival in Cornwall (England), the 8th to the 12th of August
Anglet Surf de nuit in Anglet (France) on the 18th of August
And if you can not join us, you can still learn more about our technological processes related to our wetsuit collection: here!
Ride for the future!
Meet us :
15/06 : HOSSEGOR Demo Days (Centrale)
16/06 : HOSSEGOR Demo Days (Centrale)
17/06 : HOSSEGOR Demo Days (Centrale)
06/08 : BIDART (Pavillon Royale Beach)
07/08 : ANGLET Sables d'or (Waimea Shop)
08/08 : VIEUX-BOUCAU (Atmosphère Shop)
09/08 : ST-GIRONS (Pura Vida Shop)
10/08 : MOLIETS (Soon Line Shop)
11/08 : MIMIZAN (Centrale)
12/08 : BISCAROSSE (Sea Surf and Sun Shop)
13/08 : ANDERNOS Plage du Grand Crohot (Mel x Chris Shop)
14/08 : CAP FERRET (Tutti Fruti Shop)
15/08 : BARCARES Parc des Dosses (Dernier Cri Board Shop)
16/08 : MARSEILLAN Teleski Kithau (Vague et Vent Shop)
17/08 : MONTEPELLIER (The Fat Monkeys Shop)